Welcome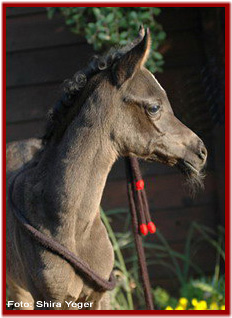 Stud for straight egyptian Arabian horses!
Hello says Valentina Arabians
Since i am interested in horses the arabian horse is my favorite. This arabian horses fascinate me with theire beauty and theire great charakters.
For me i knew very soon that i want to own an arabian horse that is western ridden.
So i came to my absolutely showpiece the straight egyptian arabian black mare Valentina AA, a very beautiful arabian mare with egypt blood.
Then there was the question for the name of our arabian horse farm.
Because our

thoroughbred

arabian broodmare Valentina AA is our showpiece i decided to name my farm for straight egyptian arabin horses after her

.
So the name Valentina Arabians was born.
Our arabian horses life in opened stables (can go in- and outsite whenever they want). We take much care to hold our arabian horses in natural way. Our farm makes it possible because the paddocks are directly at the stable so that it was possible to us to make opened stables. Although the boxes for the mares with foal are directly at the paddock so that they can go in- and outsite all the time too.
Valentina Arabians
Egyptian Arabian Horses
Since i am interested in horses the egyptian arabian horses and specially the black arabian horses are my favorite race. Egyptian Arabian horses specially black arabian horses fascinate me simply with her beauty and her great signs. For me was while my rider's career sure, that i want one day a western ridden arabian horse. Normal i wanted a black arabian horse, but than all came other :-).
Because arabians have hardiness and speed, arabian horses are ideally for the western horseback riding. This explains itself by the fact, that the origin of the western horse riding which Doma Vacquera of the Spanish cattle shepherds, has also developed on account of the genetic qualities of the arabian horses who were crossed even then often with Spanish horse races. Because arabians manage very well with wide distances, long working days on extensive pasture surfaces also pose no problem for arabian horses. Further more arabian horses are taken for endurance, leisure riding and much more.
The great character of the egyptian arabians makes them to the perfect horseback rinding horses.  For sensitive riders it is very easy to close a friendship for life with an egyptian arabian horse. On account of the wild existence of her forefathers egyptian arabian horses are very undemanding and robust. This does not stop me, to spoil my egyptian arabian horses from time to time. My egyptian arabians owe it with big devotion and loyalty.
Persons who takes part on horseshows with arabians could be sure that the attention will be at theire side. The grazile build of these wonderful, not too big animals is from superlative elegance which brings also experienced spectators over and over again to the amazement. Therefore, I may not least be glad over and over again about impressive show success with the horses from my arabian horse breeding, like the 1st place of my black arabian horse VA Amawi at the Berlin cup.
The good qualities of egyptian arabians have encouraged the decision in me to specify my Arabian stud completely on the breeding of straight egyptian Arabians, specially black arabian horses. On this occasion, I think highly of an appropriate to the species position in the open stable, because the noble straight egyptian arabians can unfold only thus her full potential. Even if you like to buy straight egyptian Arabian horses or black arabian horses, I am available to you at the address info@valentina-arabians.de with words and deeds.
At the time we have two very beautiful black arabian horses, Valentina AA and her daughter VA Amawi. We are very proud to our black arabian horses!