Valentina Arabians - Small Animals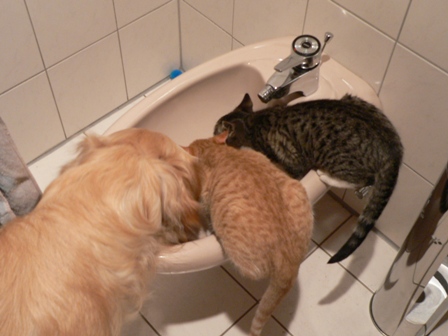 A life without animals? I don't have that :-). In addition to our loving Arabian horses, our family also includes our beloved cats and, until January 2018, our loving golden retriever Paige.
Ok, there are still a few spiders, mice and whatever in the stable 🙂
I have loved animals since I was a child. Especially cats, horses and dogs. So I always had my own cat even when I was a child. I also regularly tried to convince my parents of a horse, but I failed miserably. So the first own horse only came when I was already in training and could finance it myself.
We usually got our cats from my grandparents. These had an agriculture and, as was unfortunately still common then, the cats were not neutered there. So there were regular kittens and here we always got a cat.
Only in adulthood did the horses and our dog Paige join them.
Unfortunately we had to say goodbye to Paige :-(.
So today we live here on the farm with our beloved Arabs & Cats.
We either picked up our cats somewhere in need of help, raised them up and raised them, or we once again had a foster cat from animal welfare and could no longer separate :-).
But why write a lot, here are some photos of our lovely four-legged friends.