Valentina Arabians - Arabian Stud
Since I have to do with horses, it has been my greatest desire to own a house with adjoining barn. In 2003, this wish has fulfilled.
Moving to your own house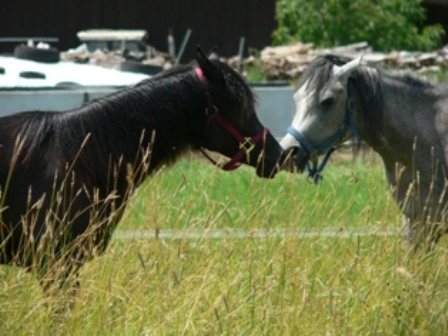 It was the beginning of 2003 when we were asked to move into a house with a yard. The property belonged to my husband's family and we bought it in 2004. The agricultural property is located in the beautiful Hesselberg recreation area with fantastic riding arenas and lots of rest :-).

The property includes a large 2-family house and also outbuildings (stables and a barn). Since the outbuildings and stables were unused for a long time, we have diligently renovated here to redesign it for horse keeping.

The nice thing about the Werner is that there is a meadow directly adjacent. In this way we were able to offer our horses the option of keeping them open.

The move in then took place in summer 2003. At that time I had my two geldings Tali and Sheitan. But it didn't stop with two horses and so the renovation work continued.
Conversion of barn to stable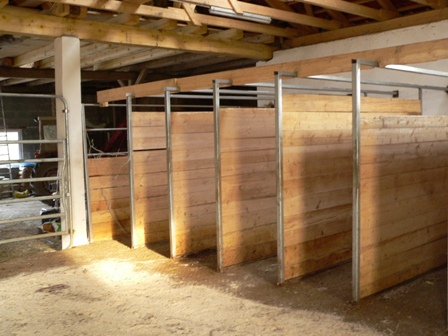 The other reconstruction works have not be long in coming, because they were made already in 2004. Thus the barn for horse open stable was converted in 2004. Here are the horses feeding stalls and, indeed, direct access to the paddock.
Over the years emerged as 5 horse boxes, 3 of which have direct access to the paddock, the playpen and even two great stallion boxes.
Training and Stable Conversion
Yes, what further to do with barn conversion ?? Actually quite simple. Through my many developments I also learn what is happening in terms of research on welfare horses like that. This is really very interesting and there are many things that you might not think for themselves.
Anyway, I try to the extent practicable to implement the new knowledge that I gain through my training, in my stables. So we have changed as the paddocks again, have planted bushes around the horses offer nibbler branches and set up what is possible for us to make the horses life here more enjoyable.