Valentina Arabians - Arabian Stud
Since I have to do with horses, it has been my greatest desire to own a house with adjoining barn. In 2003, this wish has fulfilled.
Umzug ins eigene Haus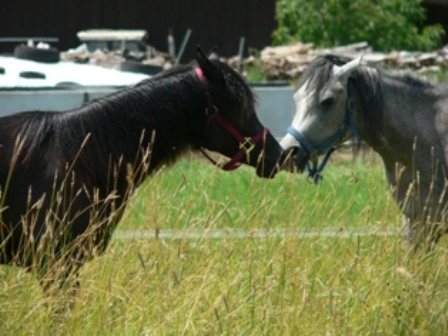 Es war Anfang 2003, als sich uns die Möglichkeit bat, in ein Haus mit Hof einzuziehen. Das Anwesen gehörte der Familie meines Mannes und wir kauften dieses dann auch im Jahre 2004. Das landwirtschaftliche Anwesen liegt in der schönen Hesselberg- Erholungsregion mit traumhaften Ausreitgelände und viel Ruhe :-).

Zu dem Anwesen gehört ein großes 2-Familien-Haus und eben auch Nebengebäude (Stallungen und eine Scheune). Da die Nebengebäude und Stallungen lange Zeit unbenutzt waren, haben wir hier erst mal fleißig renoviert, um es für die Pferdehaltung umzugestalten.

Das Schöne an dem Anwensen ist, dass direkt eine Wiese angrenzt. So konnten wir unseren Pferden die Möglichkeit der Offenstallhaltung bieten.

Der Einzug erfolgte dann im Sommer 2003. Damals hatte ich meine beiden Wallache Tali und Sheitan. Doch bei zwei Pferden blieb es ja nun mal nicht und so ging es weiter mit den Umbauarbeiten.
Conversion of barn to stable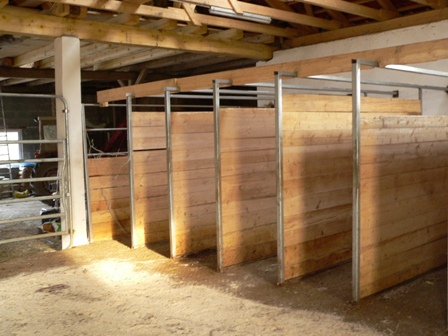 The other reconstruction works have not be long in coming, because they were made already in 2004. Thus the barn for horse open stable was converted in 2004. Here are the horses feeding stalls and, indeed, direct access to the paddock.
Over the years emerged as 5 horse boxes, 3 of which have direct access to the paddock, the playpen and even two great stallion boxes.
Training and Stable Conversion
Yes, what further to do with barn conversion ?? Actually quite simple. Through my many developments I also learn what is happening in terms of research on welfare horses like that. This is really very interesting and there are many things that you might not think for themselves.
Anyway, I try to the extent practicable to implement the new knowledge that I gain through my training, in my stables. So we have changed as the paddocks again, have planted bushes around the horses offer nibbler branches and set up what is possible for us to make the horses life here more enjoyable.