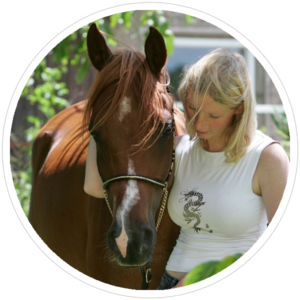 Who am I really?
My name is Kerstin Schaab. And in the photos, which of course I am :-). I come from the beautiful Middle Franconia, more precisely from the recovery Hesselberg region, near Ansbach. A very nice area :-).
Ever since I can remember, I love animals, especially horses, cats and dogs.
As soon as I could walk, perhaps well not equal :-), my parents are from and driven to with me to the stables and made me feel out walk on ponies.
My first riding lesson I had about 1993 - that is, before looooong time.
I had since then under different coaches riding lessons and could look at me different riding styles.
Which style of riding I was now hanging? I would say that I have selected to me and from different riding styles Riding systems, which I personally logical and so good it seems is in the sense of the horse.
My training does so from that I'm sooooo ever a lot of ground work. Besides the floor work course I also ride and visit the extreme trail in "neighboring" times.
In the saddle I put much emphasis on physical exercises. Why? Simply because the horse is not created by nature to carry a rider. By gymnastic the horse is just built muscular, so that it can carry a rider better. My horse ride and I work either on my riding arena or go times in our beautiful grounds.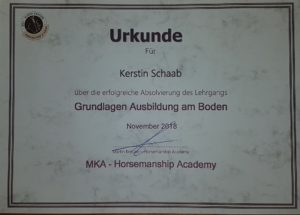 Generally I try training with the horses, and make it the horses to me as simple as possible. This includes in my eyes as much as possible about the behavior to wisssen the psychology and the learning behavior of the horse. One reason why I like to sink in books and developments :-).
As my resume shows already, I do not generally important to know a lot about horses. So I make up all the developments and read sooooo many books about horses. I am particularly interested in topics such as equine physiology, anatomy, psychology, horse behavior, horse riding, floor work and still einges more.
You could almost say, read and taking courses is an addiction of mine 🙂
But not only by the many courses and literature that I have read, I could build me a certain range of knowledge. I breed Arabian horses also for many years and always had to do here with different horses. At times I had up to 15 own horses. I gained experience with foals, with stallions, colts and mares unterschiedlichster characters. Finally, as with the people and even each horse is an individual of the it is important to respond to his needs.
curriculum vitae
| | |
| --- | --- |
| 1993 | Start of my riding career 🙂 |
| 2001 | My first horse |
| 06/2003 | Moving into our own horse property |
| 2006 | Birth of Valentina Arabians |
| 2006 | Courses Matrix Therapy & Dipo Equine Physiotherapy |
| 12/2006 | Foundation of Va- riding articles (sale of equestrian articles) |
| 2007 | Basic pass for horse science & lunging badge & Dorn therapy horse |
| 11/2007 | VWA business economist |
| 06/2016 | Webmasters Akademie: Online Marketing |
| 2017 | MKA Boden 1.1, 1.2, riding 1.1, anatomy 1 & 2, psychology 1 & 2 |
| 12/2017 | Sales of Va-riding products |
| 2018 | MKA ground work courses, riding courses, horse language & inner strength |
| 03/2018 | Conny Röhm: grazing horses properly, feeding young horses, basic course horse feeding |
| 03/2018 | Andrea Wagner horse massage 1 |
| 03/2018 | move horses healthy: Online Course Horse Anatomy: The skeleton & muscles of the horse |
| 03/2018 | Conny Röhm: liver problems & EMS, IR, Cushing |
| 2018 | G & H animal nutrition, Heidi Herrmann: Training horses nutritionist |
| 07/2018 | SGD Personality Training |
| 09/2018 | Live love learning Training as a horse-supported coach |
| 01/2019 | MKA horses Psychology & Floor Work Master Module 1 |
| 01/2019 | Conny Rohm nutritional education in equine nutrition intensive course |
| 04/2019 | Conny Rohm start of the "Master course" about feeding horses, duration 30 months |
| 2019 | Presidential course on selective deworming & horse psychology Uni Weihenstephan |
| 02/20 | Dr. Vivian Gabor (IVK) Start of training IVK horse behavior trainer |
| 02/20 | Attendance course dissection course of the digestive organs with Prof. Dr. Stasyk Uni Gießen |
| 03/20 | Completed course in horse psychology and behavioral training with a good exam |