Horse gelding by Valentina Arabians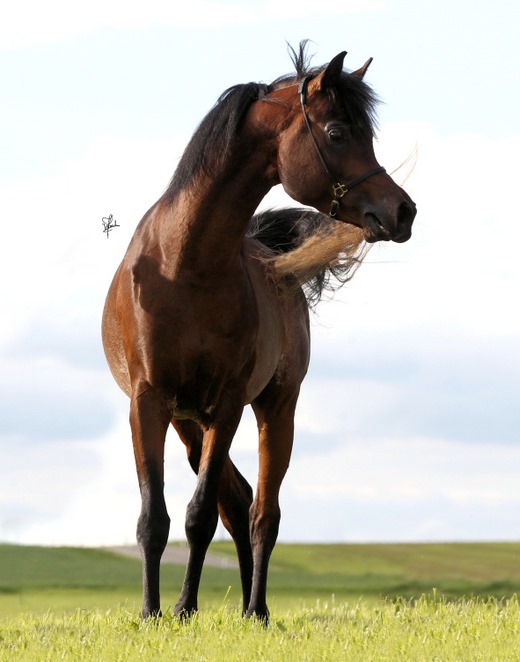 VA Valentino (Teymur B x Valentina AA)
born 20/04/2013
Breeder: Valentina Arabians
Straight egyptian
Valentina Arabians - Arabian Horse Gelding purely Egyptian bloodline
Valentino, came in 2013 as the last foal of the Arab Rappstute Valenita AA before we sold it with us to the world. Exactly one day before my birthday, he could have chosen no better :-). Perhaps I should explain that we are very caring with the birth of a foal Arabs here. We monitor the birth of the Arabian foal by camera and the alarm goes off every 15 minutes, so we will not miss anything from the birth of a foal. When it finally get started with the birth of Arabian foal, we spend together with the newly minted mom more or less the whole night in the barn and help her. The enjoy our Arab mares much. Of course I had invited guests for my birthday and much to do. Valentino has not interested 🙂
For the birthday guests of course it was the event of the day, a freshly born Arabian foal.
our Arabian Valentino was named the way from my dear mom. She said, because it is the last foal that comes from Valentina with me to the world, we should baptize him Valentino. said happened, the small Arabian stallion VA Valentino came to us.
As our Valentino has very good Arabian quality and is very chic, and to show himself knows he should only times remain stallion. He grew up together with the purchased from us as a weanling black Arabian stallion DF Kamyar on in an open stable. Only when the two were in the deck age, we separated the two.
Both Arabians were in 2016 for the first time used as a breeding stallion. Da Valentino but as an Arab stallion was not very happy, we have castrated him with a crying and one laughing eye on 12/06/2017. Previously, Valentino was still at the Martin Kreuzer Academy (MCA) for training and has done very well there. But there stood him in some measure his stallion existence in the way, so that even Martin of the MCA was of the opinion that it is better to use it as a gelding. Since the comfort and safety of our Arabian horses is important, there was not much to think about and so Valentino was just over 1 week after returning from Beritt to Wallach. Since then, he lives with the Arab mares in an open stable.
We are very proud of him. He's so great under the saddle and super chic for me. He is very fine, true to type and can show great. Is fearless and just has a cool character.
Valentino has also been shown by us on a show Arabs. We had trained him myself and it was his first show start time on the Arabs show in Castell.
When we started Valentino - mind an Arabian horse - the show ring ran, he let his head hang relaxed. Our first thought was, well that makes the show certainly not with. On an Arabian show it is in fact very important that the Arabs show themselves well.
In the show ring itself, we accepted our Arabian again barely. It has been shown, that was fantastic. The judge called him a charmer (because he has shown great) and very true to type. He has brought on this Schow the 2nd place and Silver Champion home and that means something. Yes, I admit, I was really proud of my little Arab.
The descent from our Valentino is very good.
His father is the legendary Arabian stallion Teymur B (Assad x 214 Ibn Galal), his mother the pretty black Arabian mare Valentina AA (Ali Valentino x Al Baraqai AA). he has his impeccable character well by both parents.
I'm honestly not angry that Valentino is now Arabian gelding, because that makes riding with him a lot more fun :-). Valentino remains now as an Arab gelding with me and is with me the Ausbidlung Martin Kreuzer Academy (MCA) through and so are a well-trained, happy Arab riding horse!