Valentina sale Horses Arabians
Would you like to buy a human-based Arabian? Are you looking for a partner for life? Interested in one of our Arabian horses?
Then do not wait any longer - contact us!
We look forward to you!
(For price inquiry we ask for more information to you. For example, full address, planned use of the Arabs, etc.)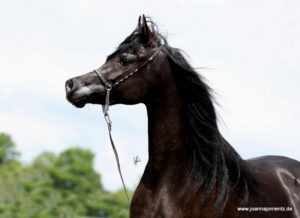 Why our Arabian stud?
Because our small and friendly thoroughbred Arabian breeding for Love & enthusiasm is for Arabian horse!
With us, you can look forward to Beautiful, human related and treatable Arabian from liebevollster rearing!
You are looking for quality - we offer quality!
Quality means for us
beauty
loving handling
affable, human related Arabian horses
welfare
adequate feeding
stress-free rearing
stress-free withdrawal
age appropriate level of training
and so much more, but read it for yourself ....
Attitude of our Arabian horses
Our Arabian horses are absolutely appropriate conditions in an open stable or kept in large Abfohl boxes with directly adjacent outlet.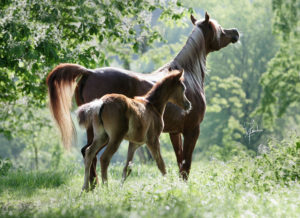 Our horses can therefore decide whether they wish to stay at the outlet / Paddock or in the stable most of the time 24 hours a day. You have sun, fresh air, exercise, herding - just everything should have a species-appropriate horse kept that way. There are few situations where we lock our Arabian times in the stable, such as New Year's Eve.
But principally our thoroughbred Arabs allowed in and out 24 hours as they wish.
In addition to the open attitude form our horses also live in groups and have plenty of contact with humans. Only our stallion can not enter the group, but he also has a large box with paddock and runs right next to the mares and geldings. This type of farming and human contact are also reflected in the impeccable character of our horses.
Feeding our thoroughbred Arabs
When feeding, it looks like that we adequately provide our horses. Adequate means they are fed according to their performance / her needs.
The main food of our horses is hay or grass. to reach to employment, or to the required chewing time, get our Arabian horses still straw and possibly branches.
Our hay we make and have it analyze this also to know the ingredients. We also make regular soil samples of our land to feed here the ground, which he needs.
When feeding, it looks like this is that we compare the needs of our horses with the result of Heuanalyse. The feed ration is then reacted with a suitable mineral feed, or adapted to, if required, concentrate feed or supplementary feed, to best meet the needs of the horses.
Part of the requirement of the horse, of course, also means that the BCS (Body Condition Score) is determined. The BCS is ultimately a judgment as to whether the horse is too thin or too thick well fed.
Say, we work hard to provide our horses the best possible forage technically and make sure that they get the needed nutrients. This is generally very important, but essential in breeding horses and foals in growth.
Rearing our Arabian horses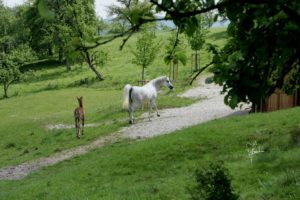 As mentioned in the attitude, our horses grow in clusters, as well as in an open stable on. So the Colts have a lot of movement, which is very important for their well-being and optimal development and also have contact with other dogs. Of course, there are also years in which we have time only a foal with us, but then comes another young horse with the group of mother and foal.
Of course, our foals have much contact with humans.
As our foals as soon as possible, along with the mother and 24 in and out, they can, of course, experience from an early age a lot. It drive tractors on the coupling over, you see children playing, other animals, etc. This has a course for their future behavior, and this influences positively. Through this form of entertainment our Arabian foals are therefore encouraged physically and psychologically positive from the beginning.
Training our arab foal
We take a lot of time for training our Arab foals. This does not mean that they are overwhelmed. It is all done only to the extent possible.
So our foals learn from an early age to be touched everywhere to be halter to be led so you get just the foal ABC and prepared from day one on their later life. Anything with a lot of peace, empathy and even without overwhelming the young animals.
training in general
Of course, the training does not end our Arabian horses with foals age. So our Arabian always learn their age appropriately. They are just prepared from childhood to later life as a riding horse, or on the daily contact with them.
Veterinarian & Blacksmith
Veterinarian & Blacksmith are with us and that can not be neglected topics. So all our horses will be presented in about 8 weeks rhythm the blacksmith, be wormed regularly and also selectively wormed (ie it is sent in a fecal sample and specifically wormed their earnings back) and they will be vaccinated against influenza, tetanus and herpes.
Discontinuation of our foals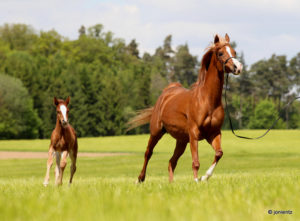 And the discontinuation of our foals done as gently as possible. So our foals are not, as is often the case, deposed tomorrow from the fifth month of life from one day to, but the deposition takes place in small steps.
Our spreaders will also not be left alone in a box, but will work together with other dogs, who was already in front of settling in their group, sold together. Also, they will remain until the withdrawal is complete, still in their familiar surroundings. So, we try to settle as stress-free as possible to handle.
This, too, is crucial for the later behavior of a horse.
If you have now decided that we, from the thoroughbred Arabian stud Valentina Arabians, are the right partner for you, we look forward to your inquiry.
You are also welcome to come visit and get to know our Arabian us by telephone appointment. We look forward to you!
You are looking for a straight Egyptian horses such as a purely ägytischen filly, a purely Egyptian broodmare, a purely Egyptian colt, a straight Egyptian stallion or a gelding Arabs? We have time to sell from time qualitaive Arabian horses. Do not hesitate to contact us: info@valentina-arabians.de
--------------------
Valentina sale Horses Arabians
When Valentina Arabians there is time to sell quality breeding of time. Our horses for sale are listed in the register sale Horses / horses for sale. All you need only click on the name of the horse for which you are interested.
Interested in one of our Arabian horses Egyptian bloodline which is not listed among the merchants? Please feel free to contact us then info@valentina-arabians.de
Horses for Sale of Valentina Arabians
They are avid riders and private Arabian want to buy horse? Or you have decided to contribute by its own Arabian horse breeding to preserve this wonderful breed of horse? Under the tab "Sales Horses" For our Arabian horses are the sales. We Arabs from thoroughbred stud Valentina Arabians are eager to offer advice and assistance when it comes to the issue of Arabian horses. You can contact us at the address info@valentina-arabians.de.
To each of our Arabian foals we build on a warm bond and accompany it lovingly from birth to maturity sale. We ensure welfare in the herd. As our Arabian horses live in an open stable, they always have the opportunity to live out their natural urge to move and to develop age-appropriate. Even for the period after the sale we want for the animals a loving, species-appropriate environment in which they can lead a happy horse life.
If you opt for buying a purebred Arabian horse, you acquire a spirited, persistent animal that overcomes even longer trail rides effortlessly. Of course, you should already have some riding experience, when you are sitting horseback Arabs on a young thoroughbred or want to break in even himself.
Particularly noteworthy is the human related nature of this oldest horse breeding breed in the world. It is not difficult to make friends with the good-natured Arabian horses build an often life-long lasting bond with them: If a purebred Arabian horse his rider once accepted, it goes with him through thick and thin.
Externally, too, Arabian horses are real beauties: A delicate physique with powerful muscles still leaves Arabian horses appear graceful and powerful. Their distinctive facial features owe the Arabian horses their concave head shape (Arabs crease) and its expressive, gentle eyes.
buy Arabian horses: You want one of our beautiful Arabian horses buy Egyptian bloodline or closer on Arabs inform horses before a purchase decision? Then take on info@valentina-arabians.de contact us at the address. We look forward to meet you!