Stallions by Valentina Arabians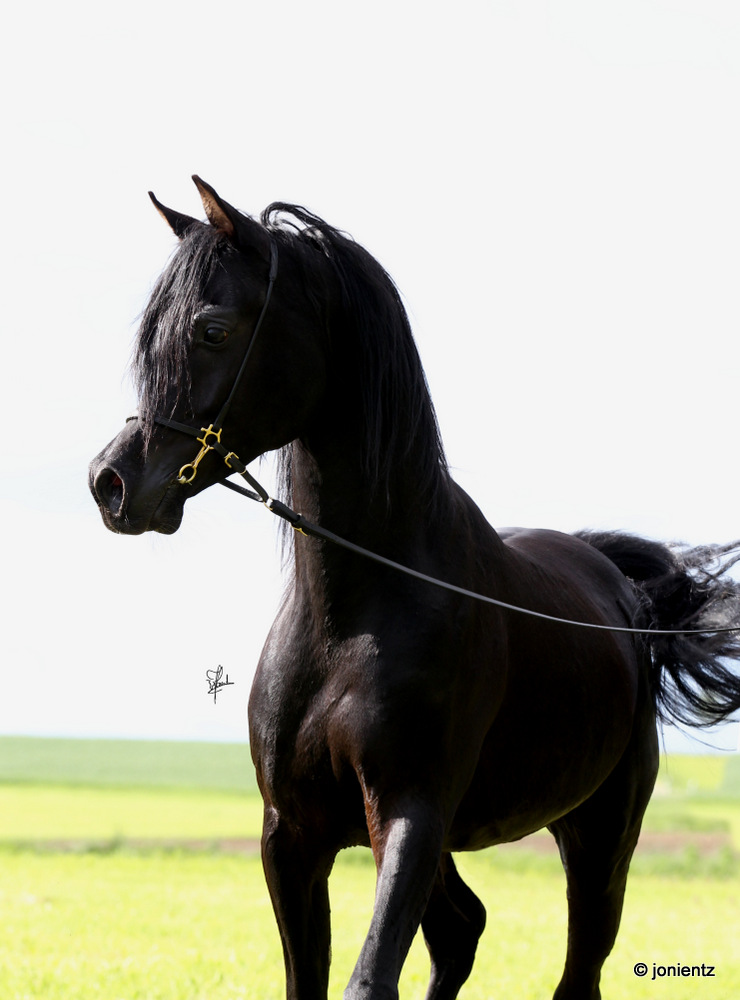 DF Kamyar (DF Siraj x DF Karimah)
born 09.05.2013
Breeder: Birkhof Arabs
Straight egyptian
Valentina Arabians - black Arabian stallion straight Egyptian bloodlines
You are looking for an Arab stallion for your mare?
Our DF Kamyar (DF Siraj x DF Karimah) is a chic, full of type black Arabs with sharp character. He moved purely Egyptian.
Both parents of DF Kamyar are also in the popular black coat. His father DF Siraj (Nazeer x AR Nineveh) is also a black Arabian stallion and very true to type with wahnsinns movement. The mother of DF Kamyar is the wonderful Arab Rappstute DF Karimah (Simeon Sadik x Kazsareei).
With Kamyar I have fulfilled a dream: a black Arabian stallion! The breeder of DF Kamyar (DF Siraj x DF Karimah) is the known stud Birkof Stud, Achim and Esther Dirnhofer. DF Kamyar already came as a weanling to us and has since developed into a great and has grown into a typey stallion.
Growing up Kamyar with our home-grown Valentino, who was born in the same year. The two were held in our open stable as long as possible together. Certainly these appropriate upbringing one of the reasons for the excellent character of DF Kamyar. DF Kamyar is now already being used at stud since 2016th He is in spite of the cover insert super well behaved and sociable. Our riding girls can quarrels it easy. A treasure to our black Arabian stallion!
First offspring of DF Kamyar can also already visited on different studs. This speaks in every respect for themselves.
SCID, LFS and CA were tested free at DF Kamyar. The black coat he inherited heterozygous.
Recently, we promote DF Kamyar also a riding horse, which was fun to him. He is also more than decent and works well with.
We are very pleased that such a chic black Arabian stallion is our own 🙂
Our black Arabian stallion DF Kamyar is of course also foreign mares.